Sundown Audio X-12 V.2 D2 12" 1500W RMS Dual 2-Ohm X V.2 Series Subwoofer
Sundown Audio X 12 D2 12" Car Subwoofer
From the beginning to the end, nothing gets over looked by Sundown Audio's engineers. The process starts with an idea, then a sketch, a functioning 3D model, then finally the prototype. You can see every detail that goes in to making their products a work of art. This process also helps Sundown make a stronger more reliable motor design for their subwoofers. Add all this to their soft parts and tooled frame and you have the perfect subwoofer. To top it off Sundown's products are proudly engineered in the USA!
---
Extreme Cone Movement & Control ULTRA-HIGH EXCURSION
The Sundown Audio X V.2 series is the first driver in Sundown's woofer line-up to offer their "ultra-high excursion" suspension and frame designs. The motor's ventilation has been improved and they also upgraded to the all-new Mega-Roll v.2 surround. which is a more linear and rugged update to their world-famous Mega-Roll v.1 surround design
---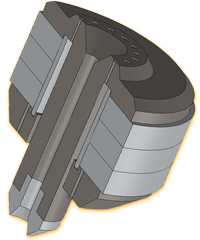 Relentless. Powerful. Dependable MASSIVE SOUND
Sundown uses high grade steel for the T-yolk and top plate which helps optimize their magnet slugs and get maximum cooling. They mate these new platforms to a triple stacked 220mm (8.66") diameter motor structure featuring a hyper-extended pole and extreme clearances (allowing up to 4" travel before reaching mechanical bottom). This motor drives a 3" diameter 4-layer CCAW (Copper Clad Aluminum Wire) voice coil wound on a thick aluminum former. For the v.2 revision Sundown also upgraded the coil to a new "black coil" design which handles significantly more heat than the coil form the X v.1 series.
---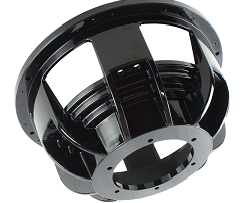 Tried-and-True Technology STRONG & LIGHTWEIGHT
The X series 10, 12, and 15 inch subwoofers feature Sundown's custom tooled frame / basket. Each model uses Sundown's patented 6-spoke cast aluminum basket with a custom made adapter to allow for a full 10 inch diameter spider. Sundown also offers a custom 18" subwoofer frame that takes the X Series V.2 to the extreme.
---
Product Features :
Sundown Audio X 12 V.2 D2 12" 1500 Watt RMS Car Subwoofer
Power Handling:
Black Aluminum 3" voice coil former for superior heat dissipation
Dual 2 ohm High Temperature Round-Wire CCAW voice coil with high-temp black adhesive
Large aluminum faraday ring reduces inductance and distortion
Spring Loaded Terminals
Stitched-On Double-XL Tinsel Leads to prevent fatigue and failure
Mega-Roll v.2 Surround Technology
Vented magnetic gap
Optimized high-velocity pole vent
Innovative high-velocity vented frame spacer ring
High strength, custom tooled and patented cast aluminum frame
Optimized for sealed, small ported & band-pass enclosures
18 inch model with optional tooled Sundown Frame uses a 4-Layer Flat Wire / All Aluminum Coil that is 30% longer
Available Model Variations:
Authorized Dealer
Product Specifications :
Xmax: 30mm one-way
FS: 36.1 Hz
RMS Power Handling: 1500 watts
Res: 1.7 Ohm
RE: 3.80 Ohms
Qms: 4.89
Qes: 0.44
Qts: 0.41
Vas: 17.1L
Le: 2.41 mH
Cut-out: 11.09 Inches
Gasket OD: 12.68 Inches
Mounting Depth: 9.67 Inches
Enclosure Recommendations :
Sealed: 2.00 Cubic Feet
Ported: 2.50 Cubic Feet
Displacement: 0.20 Cubic Feet
Depth: 9.67 Inches
Outside Diameter: 12.68 Inches
Cut-Out: 11.09 Inches
Recommended Tuning: 32hz
Recommended Port Area: 40 Square inches
| | | |
| --- | --- | --- |
| DC Resistance (Re) | Ω | 3.80 |
| Resonance Frequency (Fs) | Hz | 36.1 |
| Equivalent Volume (Vas) | L | 17.1 |
| Electrical Q Factor (Qes) | | 0.44 |
| Mechanical Q Factor (Qms) | | 4.89 |
| Total Q Factor (Qts) | | 0.41 |
| Voice Coil Inductance (Le) | mH | 2.41 |
| Force Factor (BL) | NA | 25.2 |
| Moving Mass (incl. Air Load) (Mms) | g | 326.2 |
| Suspension Compliance (Cms) | mm/N | 0.06 |
| Sensitivity | 1w / 1m | 84.4 dB |
| Sealed Enclosure Suggestion | cu. ft. | N/A |
| Ported Enclosure Suggestion | cu. ft. | 2.50 |
| Displacement | cu. ft. | 0.20 |
| Depth | in | 9.67 |
| Outside Diameter | in | 12.68 |
| Cutout | in | 11.09 |
| Recommended Tuning | Hz | 32 |
| Recommended Port Area | sq. in | 40 |