Sundown Audio 9 Ft. SAZ 2-Channel Solid 100% OFC Copper Twisted RCA Cables
Sundown Audio 9 ft. SAZ Series 100% Solid OCF 2-Channel RCA Cables
Sundown Audio's new line of RCA interconnect cables are truly one of the best quality cables we have seen. The thought and detail put into the design of these is truly outstanding. They feature multiple layers of protection and shielding that most manufactures leave out due to higher cost. As usual Sundown Audio is about quality not just numbers.
---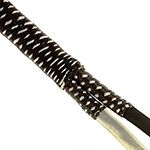 DURABILITY Braided Sheathing
Starting with the double cross-woven braid that covers the center section of the cable. Each cable is individually wrapped and then wrapped again as a whole for double protection. This helps guard the cables from scuffing and abrasions.
---
PROTECTION PVC Coating
Each Sundown RCA is coated with a PVC / Flexible Plastic to prevent corrosion and help with noise isolation. It also helps keep the cables flexible yet strong for easy installation. The RCA's also features a PVC cable anti-splitter to prevent the cable from separating at the connection points.
---
SHIELDING Braid and Foil
RCAs can pick up noise or electrical signals that flow through your car and it's chassis. Sundown included two forms of shielding. First is a braided metal jacket, which also provides strength, and then tin foil wrapped around each channel. Some would call it over-kill, we call it brilliant.
---
SIGNAL Solid Copper & Grounded
Each Sundown SAZ RCA uses a solid OFC (Oxygen-Free Copper) copper cable which allows for pure uninterrupted power transfer unlike typical stranded copper. Accompanying the solid copper wire is a ground wire that runs through each channel capturing outside noise and keeping it from the signal transfer in the solid wire.
---
Product Features:
Sundown Audio 2-Channel RCA Interconnect Cable
Twisted Pair, Solid Conductor Signal Wire
100% OFC (Oxygen-Free Copper) Signal Wire, Shielding Foil, and Shielding Braid
Protective Woven Jacket for Maximum Durability
Custom Tooled, High-Grip Connectors
Cross-Cut Outer Connector for Secure Connection
Dual-Split Inner Connector for Maximum Signal Transfer
Channels: 2 ch.
Length: 9 ft.
Available Lengths:
Available Model Variations:
In the words of our customers
the PET jacket material feels like soft pajamas, yet seems very tough, the "Y" Block is a thick, dense rubber and holds steadfast.
i usually use Knuconceptz cables. on this new build i came across these and they are one of the nicest RCA cables i have seen for this price, I purchased 2 sets of 9' & 2 sets of 6' cables. Woofers Etc. ships quickly. these are now my Go To Cables.
you'll never know until they are in your hands. as far as sound well, let the Cable Wars begin. Sundown just won the battle for me.