Sundown Audio U-15 D2 15" 1500W RMS Dual 2-Ohm U-Series Subwoofer
The long awaited and highly anticipated Sundown Audio "U Series" subs are finally here. Jacob Fuller and the team spent over a year to design, engineer, and tool proprietary elements to ensure the U-Series stands up to the incredibly high expectations set by Sundown and their lineup.
The "U Series" utilizes the same 1500 watt RMS Voice Coil as the entire X-V2 (10-18") series with a similar rear-vented motor design. The "U Series" is the most direct replacement in the Sundown line for the world famous Z-v.3 series that was available from 2011 through 2016. The "U" varies from its similarly power-rated sibling, the "X" series, in that it does not use the "Sundown new platform" frame, spider, and surround technology. The "U" series is equipped with an extremely capable "traditional" suspension design – which results in a "punchier" sound when compared to the "new platform" woofers. It also lends itself better to high-frequency SPL competition classes for the same reason.
The list of "custom tooled" parts designed specifically for this sub is seemingly never-ending; including custom cone body, custom surround (larger and thicker than the Z-v.3 series), custom cast aluminum vent spacers, and a completely new cast aluminum surround bolt-on ring.
Along with every other Sundown model, WoofersEtc is proud to offer a 2 year warranty against any defect in parts and labor.
Features:
Black Aluminum 3" voice coil former for superior heat dissipation
High Temperature Round-Wire CCAW voice coil with high-temp black adhesive
Double stitched surround
Heavy duty cast basket
Spring loaded terminals accept up to 8 gauge
Stitched-on double-XL tinsel leads
Rear vented pole piece
Rear drilled gap-venting
Innovative high-velocity cast aluminum vented frame spacer ring
Magnet ID shorting ring
Top-Plate Cooling Channels
Cast Aluminum surround bolt-on rings
Optimized for small ported or bandpass enclosures
Available in Dual-2 and Dual-4 ohm Impedance
Specifications:
1500 Watts RMS
Linear X-Max by 70% BL : 30 mm one-way
Mounting Depth: 9.05"
Mounting Diameter: 14.01"
Outside Diameter: 15.59"
Magnet Diameter: 8.66"
Enclosure Recommendations:
Sealed: 2.0 ft^3
Ported: 3.0 ft^3
Displacement: 0.24 ft^3
Depth: 10.00"
Outside Diameter: 15.625"
Cut-Out: 14.125"
Recommended Tuning: 32hz
Recommended Port Area: 48 in^2
Weight: 50LB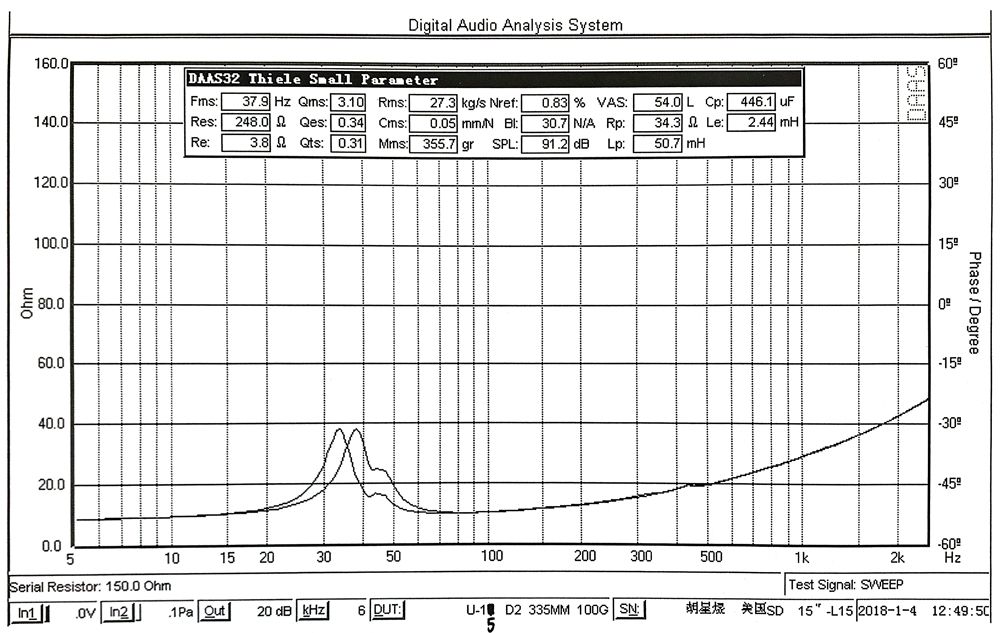 | | | |
| --- | --- | --- |
| DC Resistance (Re) | Ω | 3.8 |
| Resonance Frequency (Fs) | Hz | 37.9 |
| Equivalent Volume (Vas) | L | 54.0 |
| Electrical Q Factor (Qes) | | 0.34 |
| Mechanical Q Factor (Qms) | | 3.10 |
| Total Q Factor (Qts) | | 0.31 |
| Voice Coil Inductance (Le) | mH | 2.44 |
| Force Factor (BL) | NA | 30.7 |
| Moving Mass (incl. Air Load) (Mms) | g | 355.7 |
| Suspension Compliance (Cms) | mm/N | 0.05 |
| Sensitivity | 1w / 1m | 91.2 dB |
| Sealed Enclosure Suggestion | cu. ft. | 2.0 |
| Ported Enclosure Suggestion | cu. ft. | 3.0 |
| Displacement | cu. ft. | 0.24 |
| Depth | in | 9.05 |
| Outside Diameter | in | 15.59 |
| Cutout | in | 14.01 |
| Recommended Tuning | Hz | 32 |
| Recommended Port Area | sq. in | 48 |