Focal 27 V2 11" 300W RMS Polyglass Car Subwoofer (fits most 10" locations)
Focal 27 V2 11" 300W RMS Car Subwoofer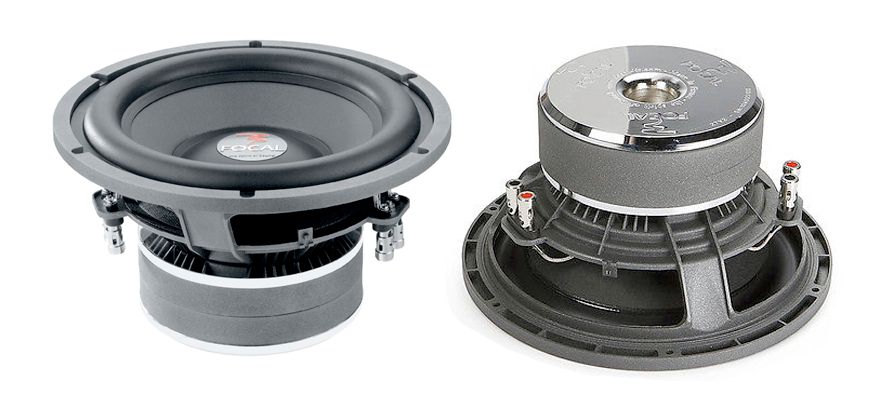 Focal's Polyglass subwoofer uses precision craftsmanship and advanced materials to create a big bass impression. Focal creates the Polyglass cone by depositing a layer of hollow glass microbeads over a layer of cellulose. This unique material combines the warm sound of cellulose with the incredible strength of glass, for a cone that responds rapidly with low resonance. The exceptionally resilient zinc alloy basket teams up with the Polyglass cone, butyl rubber surround, and an advanced motor structure to deliver uncolored bass that'll please the discerning ear.
The Polyglass 27 V2 11" subwoofer handles up to 300 watts RMS, and Focal optimizes this sub to work in sealed enclosures for ultra-tight, accurate reproduction. The dual 4-ohm voice coils allow you to draw maximum power from your mono sub amplifier. Complete your system with an enclosure, a compatible amp, and some wiring to experience Focal's bass finesse.
---
Product Features:
Focal 27V2 11" 600 Watt Car Subwoofer (fits most 10" locations)
Power Handling:

50-300 watts RMS
600 watts MAX

Impedance: Dual 4 ohms
Cone Material: Polyglass
Surround Material: Butyl rubber
Sensitivity: 88 dB at 2.83 watts
84.19 dB at 1 watt
Frequency Response: 35 - 500 Hz
Vas (liters): 21.32
Fs (Hz): 38.51
Qts: 0.63
Xmax: 11mm
Cutout Diameter (inches): 9 3/16
Top Mount Depth: 5 1/8"
Ideal Sealed Box Volume: 0.71 cu. ft.