Focal PC 710 7" x 10" 100W RMS Performance Series 3-Way Coaxial Speakers

Focal PC 710 7" x 10" Performance Series 3-Way Coaxial Speakers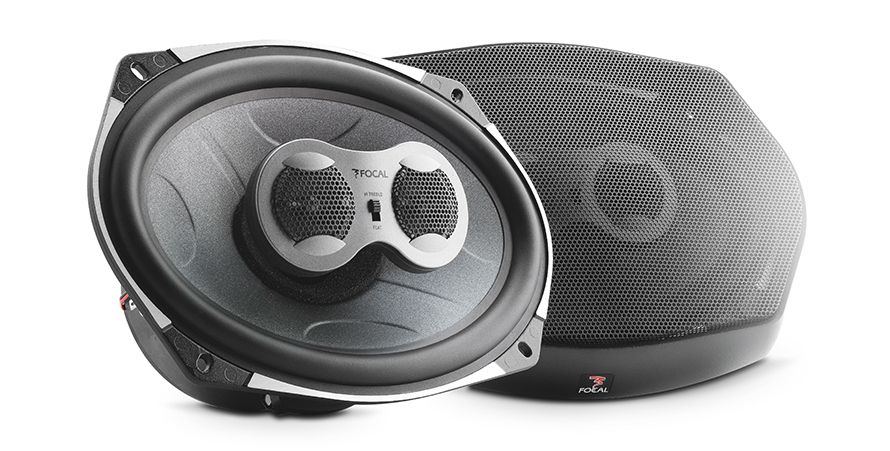 If you're looking for more than just replacement speakers, Focal's Performance Series speakers let the music speak for itself, providing transparent reproduction for all your recordings and listening pleasures. Focal's PC 710 7"x10" speakers use a lightweight, exceptionally rigid Polyglass cone in a sturdy aluminum frame to create accurate, richly-textured sound, whether played loud or soft.
---
Fits in Most 6" X 9" Mounting Locations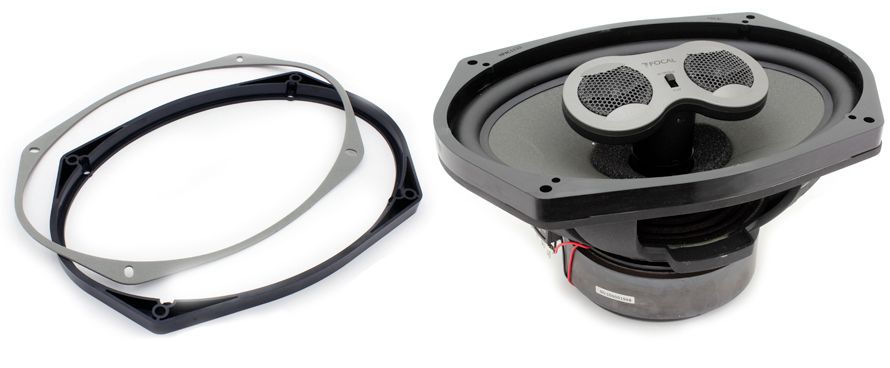 These speaker are larger than conventional 6"x9" speakers, so they'll handle more power and deliver a little deeper bass. Focal includes spacers that allow installation in many 6"x9" locations, or you can use these speakers for a custom installation.
---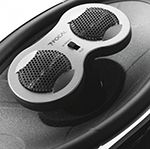 TWEETER TECHNOLOGY
Focal brought some of their high-fidelity technology out of the studio and into your car with the Performance inverted dome tweeters. This technology results in wider dispersion and a higher frequency response, so you'll notice greater detail in the instruments and voices. Each tweeter features an adjustable treble switch, which lets you choose your high frequency preference to a "flat" or "Hi treble" setting when you install the speakers.
---
Product Features:
Focal PC710 7" x 10" 100W RMS Performance Series 3-Way Coaxial Speakers
Power Handling:

RMS: 5 - 100 watts
MAX: 200 watts

Fits in most 6" x 9" mounting locations
Polyglass cone for warm and accurate sound
Processed double aluminum inverted dome tweeter with adjustable level ("flat" – "Hi treble")
Two sets of terminals for bi-amping the speakers
Grilles and 6"x9" spacers included
Butyl rubber surround
Sensitivity (2,83V/1m): 94dB
Nom. impedance: 4 Ohms
Frequency response: 50-20,000 Hz
Mounting Depth: 4.25 Inches
What's in the Box?
Two 7x10 Speakers
Two 6x9 Top mount adapter brackets
2 Grilles
2 Grille mounting rings
2 Mounting gaskets
8 Speed clips
Eight 1-3/4" Self-tapping screws
8 Pieces of grille putty
Owner's manual (English/ French)
Focal window sticker
Product Specifications:
Xmax: 2.75mm x 01/16"
Magnet D x H: 3.54" x 0.66" (90mm x 17mm)
DC resistance: 3.2 Ohms
VC diameter: 30.5mm / 1"
VC height: 10.5mm / 5/16"
Fs: 54.33Hz
Vas: 26.8 I
Qts: 0.64
Qes: 0.69
Qms: 7.9
Re: 3.28 Ohms
Sd: 206.0cm2
Cas: 1.82 E-07m5/N
Mas: 47.2kg/m4
Ras: 2039.44 Ohms.ac
Cms: 450μ/N
Mms: 19.08g
Rms: 0.824kg/s
Ces: 616.25mF
Les: 13.93mH
Res: 37.55 Ohms
BI: 5.56N/A
SPL: 89.7 dB/W/m
In the words of our customers
by

07 streetglide

on 4/29/2015

Q: was wondering if anyone has mountrd these in there lids? if they will fit??
A: These speakers are actually very similar to a 6X9 in terms of mounting diameter. Considering they include ring adapters, and spacers, they should fit almost anywhere that you can fit a 6X9.

by

12 STREETGLIDE

on 3/18/2015

This is the fifth pair of speakers I tried in the bags of my Harley within 2 years. Some were better than others, but no 6X9 compares to these 7X10. I'm finally happy and the bags are done! Ima see if we can get a pair in the fronts!