Memphis MOJO612D4 12" 1500W RMS Dual 4-Ohm Subwoofer
Memphis Audio MOJO612D4

12" 1500W RMS Dual 4-Ohm MOJO Series Car Subwoofer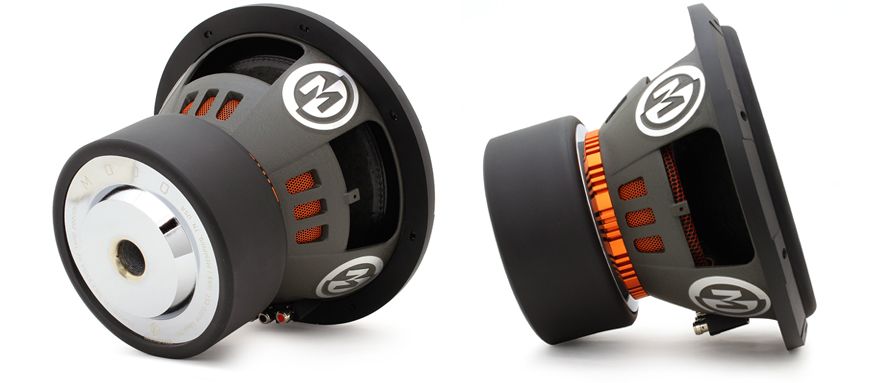 Memphis subwoofers have long been the choice of competitors and serious bass junkies, and the MOJO subs are the biggest and baddest of the bunch. The newest generation MOJO6 subs were re-engineered and improved for better cooling and even higher power handling. All that means more trophies in the SPL competition lanes and more boom in the highway fast-lane.
---
More Power Than Ever Before
The 12" MOJO6 subwoofer now handles 1500 watts RMS! That's a 36% increase, achieved with more massive parts and more intelligent design. Watch out other guys, Memphis is taking all the SPL trophies and all the bragging rights.
---
Not Afraid to Bang
Carrying on the MOJO legacy is not a simple task so the new designs require attention to every detail to ensure a sub that can knock trouble-free for years. Memphis uses an incredibly stiff, yet light single piece inverted fiberglass reinforced cone which is double-stitched to the rubber surround. The same idea of overkill carries on with the reinforced spider and integrated tinsel leads, all to produce and withstand the stomach churning bass that only a MOJO can.
---
Pound All Day Without a Break
The best sub doesn't just work hard, it works smart. The extremely high-power coils are kept cool with a list of techniques all designed to get heat out and away. Side and rear vents force hot air out and pull cooler air in with every stroke of the cone while a heavy duty aluminum heat sink works to dissipate heat all designed to let you play harder and longer.
---
Product Features:
Vented cast aluminum basket
4-layer CCAW 3.5" voice coil
235oz magnet
Fiberglass reinforced cone
Double stitched rubber surround
Reinforced double spider
Heat dissipating aluminum heatsink
Single sided terminal block
Specifications:
Power Handling:
RMS Power Range : 1500 Watts
Maximum Power: 3000 Watts
Sensitivity: 81 dB
Impedance: 4 Ohm
Diameter: 12 Inch
Shallow Mount: No
Number of Voice Coils: Dual
Mounting Depth: 8.54 Inches
Other Specifications:
Thiele Small Parameters
Resonant Frequency (fs): 37.6 Hz
Mechanical Q (Qms): 4.863
Electrical Q (Qes): 0.943
Total Q (Qts): 0.79
Sensitivity: 82 dB
Xmax Linear: 0.669 in
Displacement: 0.317 cf
Air Volume of Suspension (Vas): 16.55 cf
Moving Mass (Mms): 399.148 g
Suspension Compliance (Cms): 0.045 mmN
Effective Piston Area (Sd): 510.71 SqCm
Motor Strength (Bl): 20.475 TM
Voice Coil and Magnet
Impedance Series: 8 Ohms
Impedance Parallel: 2 Ohms
Voice Coil Diameter: 3.5 in
RMS Power: 1500W
Peak Power: 3000W
Magnet Weight: 235 oz
Magnet Diameter: 8.66 in
Physical Dimensions
Mounting Depth: 8.58"
Cutout Diameter: 10.7"
Frame Outside Diameter: 12.67"
Enclosure Recommendations
Single Sub Sealed: 1.5 cf
Dual Sub Sealed: 3 cf
Single Sub Vented: 3.25 cf
Port Dimensions: 12.5" x 2.5" x 18.75" L
Tuning Frequency: 36 Hz
Dual Sub Vented: 6.5 cf
Port Dimensions: 12.5" x 5" x 17" L
Tuning Frequency: 36 Hz