AudioControl D-6.1200 Configurable 6/5/4/3-Channel DSP Matrix Amplifier with Accubass
AudioControl has paired our award winning amplifier technology with our powerful Matrix DSP into the D-6.1200. This single-unit solution provides unprecedented power and tuning flexibility when you require audio perfection from your factory or aftermarket sound system.
The D-6.1200 features active speaker level inputs, line-level inputs and outputs plus, using AudioControl's DM Smart DSP app gives you complete control over all features including 30 bands of equalization, signal delay, input delay, polarity and AudioControl proprietary features like AccuBASS®, GTOTM Signal Sense, and MILCTM plus integrated input and output RTA's.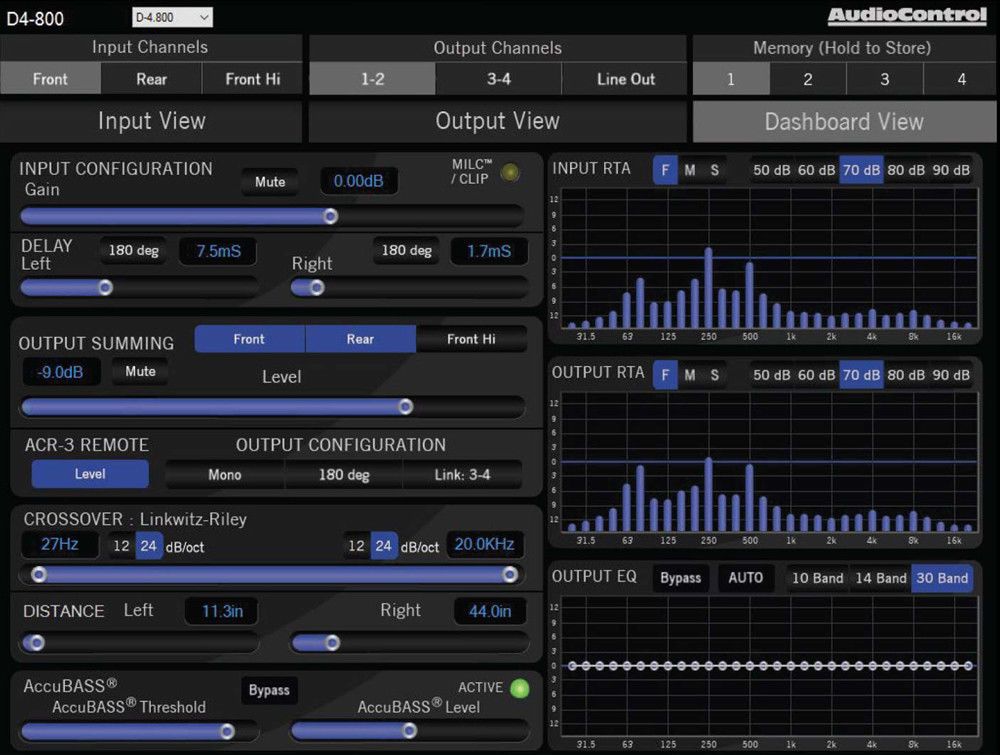 The built in Option Port on the D-6.1200 is the future of car audio and will allow hi-res streaming directly into the DSP. It also opens up future proprietary connections for additional inputs, controllers and interface solutions.
Perfect for OEM integration and aftermarket builds, the D-6.1200 packs power and intelligent flexibility into one beautiful cast aluminum chassis.
Features
Built-in DSP
Configurable as 6/5/4/3 channel amplifier
6 x 200 watts @ 2 ohms
6 x 125 watts @ 4 ohms
400 watts @ 4 ohms bridged
AccuBASS® Processing
MILCTM Maximum Input Level Control (Patent Pending)
GTOTM Signal Sense
Active speaker-level inputs (8 channels) for OEM integration
6 preamp inputs
2 assignable preamp outputs
Solid One-Piece Aluminum Chassis
DM Smart DSP app available as a free download
Input and Output RTA for precise and informed tuning
Input and Output Delay
12 and 24 dB/octave Linkwitz-Riley crossovers
30 band equalizer
Optional ACR-3 remote for preset recall and level control