Sundown Audio SD-6.5 CS - 6.5" 60W RMS Component Speaker System
Sundown Audio SD-6.5 CS 6.5" Component Speakers System 60W RMS
The SD component set starts out with its custom designed midrange driver. The mid features a high rugged stamped steel basket as its starting point and is mated to a motor equivalent to the v.1 SA component set.
We are confident that anyone who is after a smooth sounding set will be incredibly pleased with the SD component line. You can think of the SD line as the "little brother" to the SA line as the sound is VERY similar but they have slightly less power handling, a simpler crossover, and no faraday ring.
---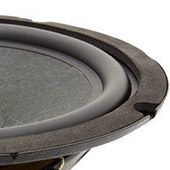 Natural Fibers WARM SOUND
The cone is a carefully selected blend of paper and wool fibers designed to damp any unwanted resonances. The dust cap is polypropylene and its size, shape, and material were all chosen to create the type of sound Sundown was looking for. The surround is a very compliant rubber that helps to tame any remaining edge resonances within the cone. With any midrange the cone, surround, and dust cap are CRITICAL to the sound. As with SA line performance was taken on first without too much concern for cosmetic appearance.
---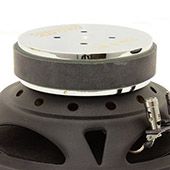 Relentless and Powerful MASSIVE SOUND
The motor was FEA optimized in-house to increase linear excursion and features a full 6mm one-way linear excursion thanks to a carefully designed motor and extended pole piece. Sundown also thoroughly considered thermal performance in the design with the SD mid featuring a vented magnetic gap, vented voice coil collar, and a vented frame. The 60-watt per side power rating on the SA mid is derived from a full 8-hour test on pink noise (full bandwidth down to 20 Hz) - so when crossed over on the bottom-end this figure ends up being VERY conservative.
---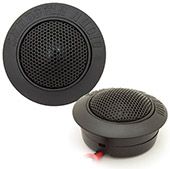 Smooth and Accurate CRYSTAL CLEAR
The SD series tweeter had to match the smooth sound of the midrange so Sundown went with a silk dome. They tested numerous versions, tweaked the gap, dome material, tested various lenses, various chamber damping materials, so on and so forth until arriving at the final design. As the response graph is proof of the result is an incredibly smooth sounding tweeter. The SD tweeter is very similar to the SA tweeter other than the housing & internal chambers.
---
Frequency Perfection CONTROLLED
The crossover is also relatively simple looking at first glance but it does the job perfectly. It is a 12 dB network centered at 3800 Hz with high quality air core inductors and Mylar capacitors. The crossover supports adjusting the tweeter from -3dB, to 0dB, to +3dB to ensure you can get the level of output you desire. Sundown's crossover also features a built-in protection circuit for the tweeter – if too much power or a heavily clipped signal is present the tweeter will cut off temporarily to help prevent damage.
---
Product Features:
Sundown Audio SD-6.5 CS 6.5" Component Speakers System
Power Handling:

RMS Power: 60 watts per side
Total RMS Power: 120 watts per pair

Impedance: 4 ohms
.80 inch (20mm) Silk Dome Tweeter
Aluminum Voice Coil Former
Stamped Steel Frame
Wool Filled Paper Cone
Rubber Surround
12dB/Octave Crossover
Adjustable Tweeter Level (-3, 0, +3)
Mounting Depth: 2.25"
Authorized Dealer