Stinger SPV.20 12V 300 Amp Dry Cell Battery for Systems up to 600 Watts
Stinger SPV.20 300 Amp Dry Cell Car / Motorcycle Battery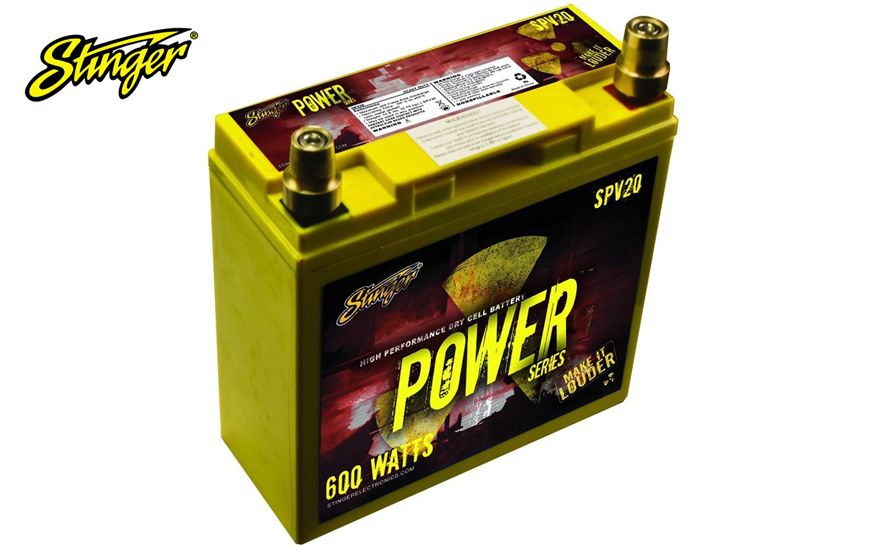 This Stinger 12-Volt Power Series Dry Cell Battery features a sealed absorbed glass mat (AGM) design and is perfect for 600 watt car audio sound systems. The SPV20 can be used as a replacement for your vehicles standard battery or as an additional battery to provide the extra power needed for a high performance aftermarket car stereo system. It's leak-proof design and removable brass battery posts allow this power cell to fit in most factory battery locations with no hazardous leaks. Stinger's SPV20 Power Cell puts out 300 cranking amps and is good for over 300 full discharge cycles. This battery will store energy so you don't need a capacitor for your system.
Why Choose an Absorbed Glass Mat Battery?
Absorbed Glass Mat batteries are constructed differently than the traditional flooded battery. In AGM batteries (also called starved electrolyte), there is a thin ultra-fine fiberglass mat sandwiched between the plates that are saturated with battery acid to about 95% of what they can hold. This mat is then packed in between the plates and slightly compressed, then welded/soldered in place. Because the plates and mats are packed fairly tight, they are almost immune to vibration, acid spills, ETC. They are perfect for applications where power, weight, safety, and reliability are paramount.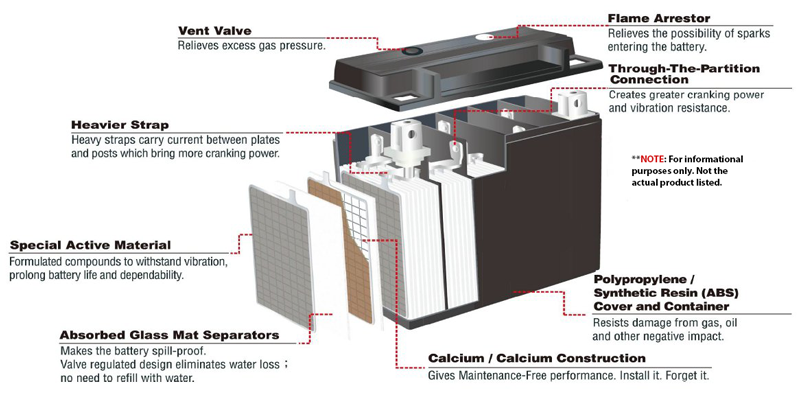 ---
Product Features:
SPV20 includes removable brass battery posts for installation flexibility.
Sealed Absorbed Glass Mat (AGM) for for extreme
SPV Series Batteries are good for over 300 full discharge cycles
Internal resistance: <11 mOhms = Ability to quickly deliver power. The lower the number the faster the delivery.
20 hour rate: 1A/20Ah
5 hour rate: 3.4A/17Ah
1/2 hour rate: 25A/12.5Ah
5 Second Cranking Amps: 300A
Cold Cranking Amps (CCA): 230A
Watts: 600
Peak Discharge: 375 Amps
Weight: 14.8 lbs.
Dimensions: 7.5" H x 7.12" W x 3" D